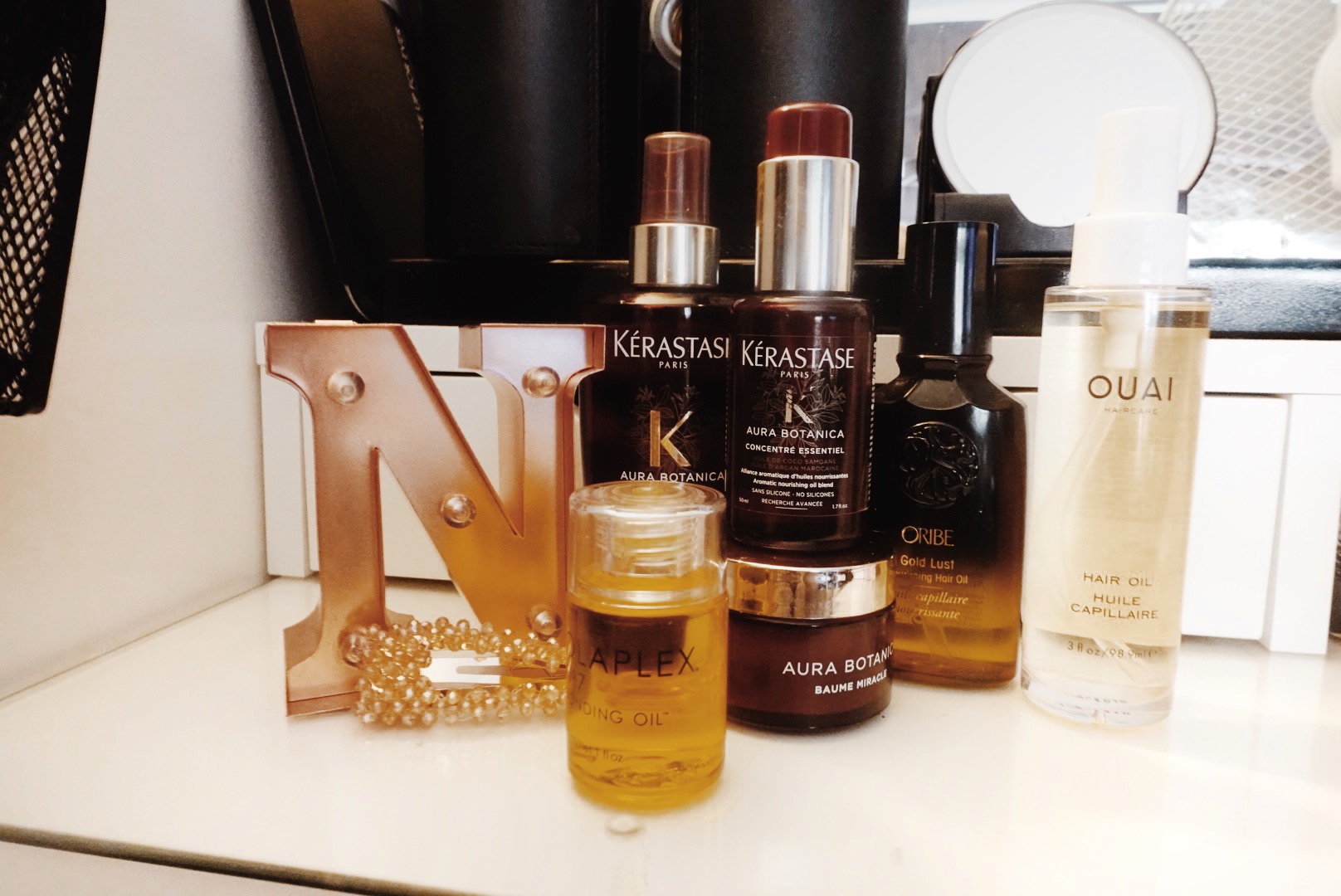 ---
For as long as I can remember me and hair oil have had a long standing love-hate relationship. It was always a precarious balance between 'only pump out a tiny bit' and 'I look like a limp greaseball again.' My fine, thinning hair could only really handle the most lightweight of hair oils; which for a long time were pretty hard to find.
I figured I'd write this blog post based on my experience with the few I've tried so far on my continuous quest to find the best hair products for not only my own bio hair, but for my alternative hair pieces as well in the hopes that maybe it will help you too.
---
Kerastase Aura Botanical Essence Hair Oil Mist
---
I'm going to start right off with my very favourite of all the oils I've ever tried for both my bio hair and my helper hair pieces. It's a bit on the expensive side but does last quite a while since you only need a spritz or two to get the desired effect. This hair oil is very lightweight and comes in a glass spray bottle. Give it a nice shake and spritz from mid length to ends for a smooth shine without weighing down your hair. My favourite thing about this hair oil is that it's silicone free as everything from the Aura Botanica range by Kerastase is silicone and sulphate free. I find that when I use silicone based products regularly that they tend to weight my thin hair down, which is the last thing I want of course. The scent is a faint floral botanical sort of fragrance which doesn't bother me as it fades after a few moments, though I'm not very sensitive to scents.
---
Kerastase Aura Botanica Concentre Essential
---
So I purchased this one after my home run with the spray oil version I mentioned up above. When I spotted this one online it seemed like a thicker, more moisturising version of my favourite so I wanted to give it a try. Concentre Essential is a thick oil blend of avocado, jojoba, Samoan coconut, Moroccan arian and sweet orange oil, so it's quite the mix of some of my favourites – and without the silicones too. Due to the thickness of this oil I found the best use for it was as a pre-shampoo overnight oil treatment for both my bio hair and my alternative hair pieces. For my hair toppers I'll dispense one pump of the oil and run it through mid-length to ends on my topper and leave it on a plastic stand overnight to allow the moisture and goodness to penetrate the hair shaft before I shampoo and wash the next day. For my bio hair I do the same (except for the plastic stand part of course). I've loved it so far, noticing more bounce and added softness to my pieces since introducing them to this oil. I'd imagine you'd get a similar effect if you mixed the mentioned oils above or used a singular one on your hair pieces in a similar fashion. For a more cost effective treatment, I have friends who have used straight up coconut oil with great success as a pre-shampoo treatment (I haven't tried this on my helper hair pieces yet, but will soon).
---
---
I don't know what I was thinking buying this one. It was pretty expensive and honestly it felt more like silicone than nourishing oil on my locks. I tried pumping and using the most minimal of product and it still left me greasy and limp. The bottle has been sitting on my shelf for a while now after many attempts at getting it to work. There seems to be a lot of good reviews online so I guess it works for some folks out there. But for me? Big fat expensive nope!
---
---
This came in a set with a bottle of Ouai Dry Texturizing spray and if you're looking for a light silicone based hair oil I'd recommend this one over the Oribe mentioned above any day. It smells nice and does the job, the pump works well enough to allow me to dispense a small amount so I don't end up over applying. This is one I'd consider my 'happy middle' – it's not the best, and it's also not the worst, but I honestly wouldn't repurchase this one. I only ended up with a bottle because it was included free with my texture spray.
---
---
Anyone else have the bad habit of purchasing an entire range of product from a brand after finding one product that's amazing from it? Consider my hand raised right now because that's me. I loved the other two Kerastase products I've mentioned above so much that I took a gamble and purchased yet another oil. Unlike the others mentioned, this one is a balm that melts with the warmth of your touch on contact – sounds familiar right? Yup, it's scented coconut oil. From looking at the ingredients list there are other things in there beside coconut oil. But honestly? It's nearly the same. I regret buying this and I'm only using it up because I have it and it works. However you can get a tub of coconut oil from any store for much cheaper than this products and get the same effect.
---
---
This one is a classic in my books. Which is also why it isn't pictured in my image above – since I finished up my bottle of this a couple of months ago. I haven't repurchased this product yet because I've decided to go on a quest to try more new things. Despite not owning it currently, I still had to mention it because it was one I used for quite some time on my bio hair. This one does contain silicones as well and if applied too heavily it can make your hair limp and heavy pretty quickly. I'm not sure if I will repurchase this one after having tried others that I prefer over this one but I wanted to give it a mention since I did enjoy it when I had it.
---
---
Last but definitely not least, is my latest addition to my ever expanding collection of hair products I've purchased to play with. I kept seeing this oil mentioned everywhere on Reddit and in the hair loss community on Instagram and on Facebook so I knew I had to give it a try. When it finally arrived to my door the first thing I noticed was how tiny this little golden bottle of hype was and whilst I remember seeing it mentioned that it was small prior to ordering it I didn't expect it to be -that- small. On the bright side it works great for travel. Thankfully you only need the tiniest amount of product so this tiny little champion will likely last me a really long time – which I'm happy about because I seriously love this stuff. When I spotted dimethicone at the top of the ingredient list I was hesitant thinking I'd end up with another Oribe disaster, but I was very, very wrong. Olaplex No. 7 is incredibly lightweight and fine/thin hair friendly. It's also worked amazingly well on my hair toppers (my Lusta topper eats this stuff up and is left soft and bouncy with a beautiful shine). Honestly, I don't understand the science behind the Olaplex products, I know the gist of the whole repairing the bonds but other than that I'm clueless. I'm hoping to learn more as I carry on my journey with trying out new hair products and researching ingredients.
---
I'm always on the lookout to try new hair oils and hair products so if you have any requests or recommendations please feel free to let me know via the comment section, email or even toss me a DM on Instagram @Neveen.Wood
Shop The Post