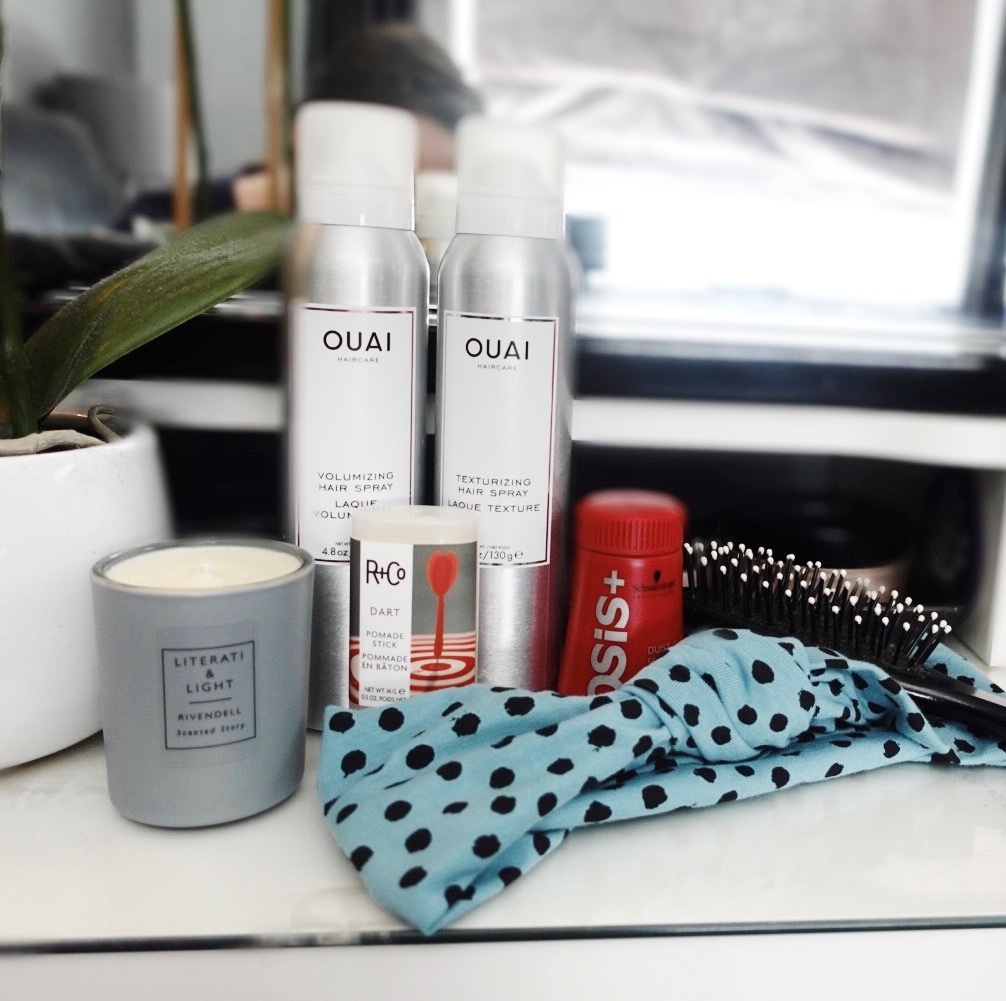 ---
A couple of weeks I posted the above picture on my Instagram and wrote a small blurb about the products I've been using and enjoying lately on my fine and thinning hair. I decided that since I started a blog I should do a blog post about the products that i had purchased myself and write about my own first-hand experiences with them.
---
---
I've been using this on my bio hair to add some grit and volume prior to clipping in my topper. This product helps give the hair I clip into some texture and hold so my topper sn't moving around or tugging as badly. Though be careful not to make the same mistake that I did and dump almost half the bottle worth of powder all over the palm of my hand and the bathroom floor. Use sparingly because it does have a very mattifying effect and can feel 'dirty' rather quickly if you end up using too much of it by accident.
---
---
I have been using this on both my bio hair and on my toppers to add more volume and texture if I want to add a bit of poof! I'm still experimenting with this but I like it so far and if I'm in a rush I'll use this instead of the Osis prior to clipping my topper on. I'm on my third bottle of this and I used to use the Oribe Texturizing spray which admittedly is my favourite by far and, in my opinion, the holy grail of Texturizing sprays, but it's pretty expensive so I decided to start giving a few other brands a try. I do love this one, but it doesn't compare to my soulmate Oribe (we will meet again my love).
---
---
I actually ordered this one by accident when I went to order the texturizing one, but I decided to give it a try instead of returning it. So far I like it to give my bio hair a spray after I've curled my hair to help my curls last longer.
It holds pretty well without making my strands feel all crunch-tastic but I likely won't be purchasing this one again once I've finished the bottle. I definitely prefer the texturizing spray over this one and as a hair spray this one when on my hair does the same as cheaper ones I've used before.
---
---
I love this stuff to smooth down broken bits of hair I have on the front that love to stick up! It's also pretty good with smoothing down some wild return hairs on my toppers. It's tiny though so I've been going through it quicker than I'd like to. I've ordered a similar style product from another brand that I'm going to try out soon to compare and I'll post about it once I've given it a good try. I do really like the dart stick and I think the fact it's so compact and small means I can just throw it into my purse with a little comb for on-the-go touch-ups on my bio hair or topper/wig.

Have you guys tried any of these products? If you have recommendations please let me know down in the comments, I love trying out new products and I'm always on the hunt for something better.
---
Shop The Post