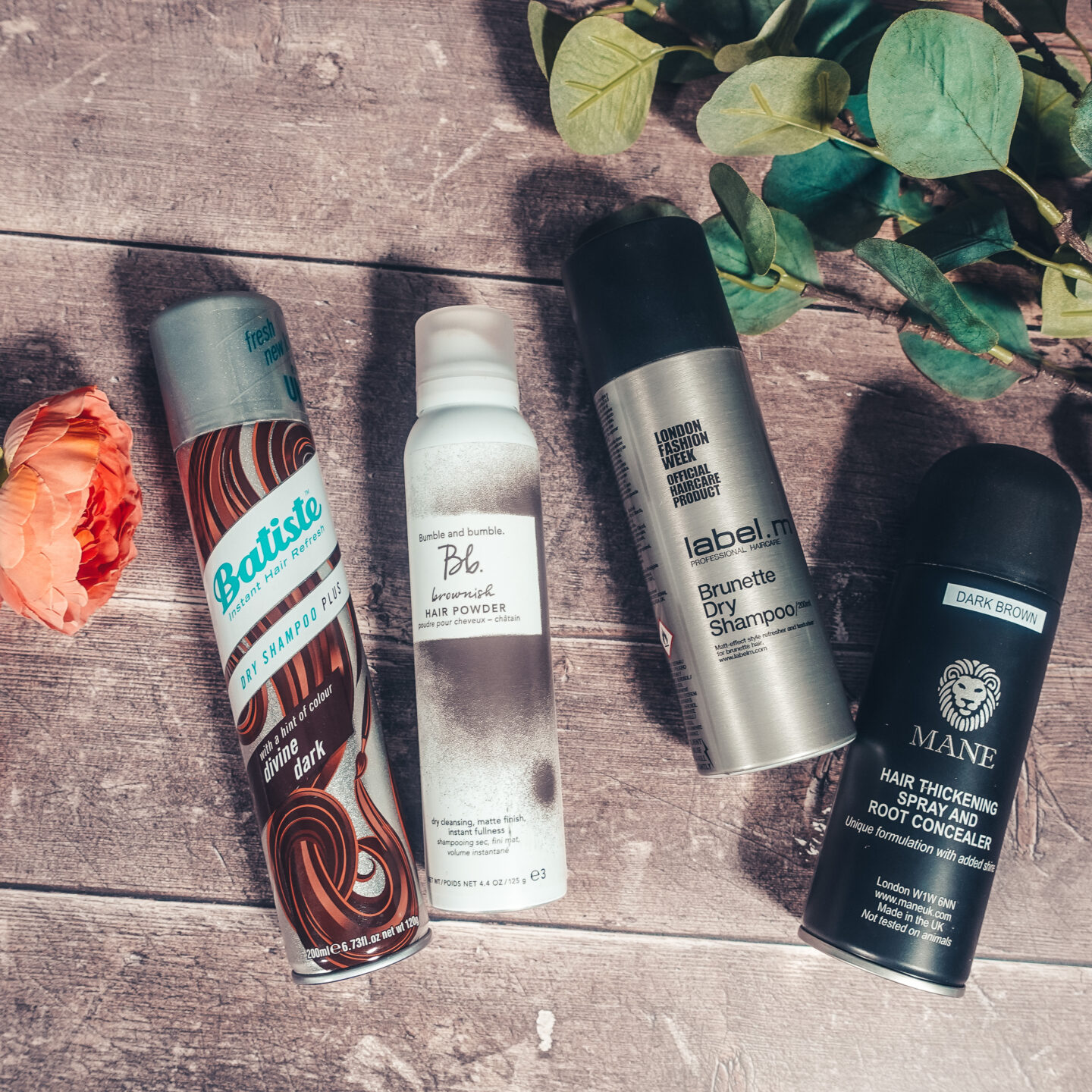 ---
Tinted sprays, also known as, sprays that ruin the walls of my bathroom and stain anything and everything in its wake of nozzle wielding destruction. I've tried more than the ones I've included in this post, these are just the ones I managed to still hold onto with the hope that one day, maybe, I'll suddenly master the art of 'not making a mess of it.'
First one is my Batiste, which is actually my favourite of the bunch – it's cheap and cheerful and the spray isn't as aggressive as others pictured. Though, I recommend cleaning the little area where the spray comes out of regularly because it can cake on and dry, and then it just sprays out clumps. I like to use a cotton bud and warm water to clean the nozzle every once in awhile to make sure the spray comes out at its best.
Next up is my Bumble & Bumble brownish powder. This one is incredibly aggressive when it sprays, I tried to get the perfect amount of pressure pushing down on the button but no matter how hard I tried this sucker was like a volcano erupting on my head of just… brown glops. Maybe I got a dud can? I have no idea, but I've only used it a handful of times and I'm not sure I'd want to try again. I would definitely see if you can try this out somewhere before purchasing it as it's a lot pricier than the others in this list and I don't think it does anything differently than the rest. This is just personal experience of course, I know a lot of people love the BB product and I've read rave reviews everywhere, I just couldn't get it to work for me.
Third is Label.M Brunette Dry Shampoo, this product was one that was recommended to me at a Toni & Guy salon here in the UK when I dared to go get my hair cut at a salon and the stylist there piled this spray on my head like there was no tomorrow. Sure my scalp was covered up, but my hair was crisptastic. Using a bit of the product worked out better but it's very similar to the Batiste and more expensive so if I had to choose I'd go with the Batiste.
Mane hair thickening spray and root concealer is my second favourite of the bunch. I purchased this one at Trendco Birmingham and out of all the sprays this one survived the 'scratch-the-itchy-scalp-dirt-nail-test.' You know what I'm talking about, that moment when you're thinking 'oh, my head is itching, let me just scratch at that lil itch – oh great now my fingernails are brown.' I mean all these sprays do that to a degree but this one seemed to do it less, it didn't clump and I didn't notice any trails of brown water leaking down my face when it rained too.
So all in all I like the Batiste because it's cheap and the Mane because of is survival on my indecisive noggin.
---
Shop The Post